EU to close airspace to Russian planes; Putin orders nuclear deterrence forces on high alert
The European Union's chief executive has said the 27-nation bloc will close its airspace to Russian airlines, fund supplies of weapons to Ukraine and ban some pro-Kremlin media outlets in response to Russia's invasion.
European Commission president Ursula von der Leyen said that "for the first time ever, the European Union will finance the purchase and delivery of weapons and other equipment to a country that is under attack".
Ms von der Leyen added that "we are shutting down the EU airspace for Russians. We are proposing a prohibition on all Russian-owned, Russian-registered or Russian-controlled aircraft.
"These aircraft will no more be able to land in, take off or overfly the territory of the EU."
She also said the EU will ban "the Kremlin's media machine. The state-owned Russia Today and Sputnik, as well as their subsidiaries, will no longer be able to spread their lies to justify Putin's war and to sow division in our union".
Ms von der Leyen added that the EU will also target Belarus President Alexander Lukashenko for supporting Russia's widespread military campaign in Ukraine.
"We will hit Lukashenko's regime with a new package of sanctions," she said.
Putin orders nuclear deterrence forces on high alert
The office of Ukraine's president has said that a delegation will meet with Russian officials as President Vladimir Putin ordered Russian nuclear forces to be put on high alert.
Speaking at a meeting with his top officials, Mr Putin directed the Russian defence minister and the chief of the military's General Staff to put the nuclear deterrent forces in a "special regime of combat duty".
"Western countries aren't only taking unfriendly actions against our country in the economic sphere, but top officials from leading Nato members made aggressive statements regarding our country," Mr Putin said in televised comments.
The US ambassador to the United Nations responded to the comments from Moscow while appearing on a Sunday news programme.
"President Putin is continuing to escalate this war in a manner that is totally unacceptable," ambassador Linda Thomas-Greenfield said.
And we have to continue to condemn his actions in the most strong, strongest possible way.
Ukraine agrees to hold talks with Russia at Belarus border
Minister for Foreign Affairs Simon Coveney has said he hopes the world is seeing the "first step" towards the ending of war, ahead of the talks between Ukrainian and Russian officials.
However, Mr Coveney also said the meeting will not be enough to deter the EU from imposing fresh sanctions.
Ukrainian President Volodymyr Zelensky's office said on the Telegram messaging app that the two sides would meet at an unspecified location on the Belarusian border and did not give a precise time for the meeting.
The announcement on Sunday came hours after Russia announced that its delegation had flown to Belarus to await talks.
Ukrainian officials initially rejected the move, saying any talks should take place somewhere other than Belarus, where Russia has placed a large contingent of troops.
The Kremlin said on Sunday that a Russian delegation had arrived in the Belarusian city of Homel for talks with Ukrainian officials.
Kremlin spokesman Dmitry Peskov said the delegation includes military officials and diplomats.
"The Russian delegation is ready for talks, and we are now waiting for the Ukrainians," he said.
Police detain more than 900 people at anti-war protests across Russia
Police detained more than 900 people at anti-war protests that occurred in 44 Russian cities on Sunday, raising the total since the start of Russia's invasion of Ukraine to over 4,000, independent protest monitoring group OVD-Info said.
According to Reuters, Sunday's protests coincided with the seventh anniversary of the murder of opposition politician Boris Nemtsov. Some of Sunday's arrests took place at an improvised memorial just outside the Kremlin at the site where Nemtsov was shot, a witness said.
Ukrainians return to fight
While hundreds of thousands of refugees are leaving Ukraine amid Russia's attack on the country, some Ukrainian men and women are returning home from across Europe to help defend their homeland.
Poland's Border Guard said on Sunday that some 22,000 people have crossed into Ukraine since Thursday, when Russia invaded the country.
At the checkpoint in Medyka, in south-eastern Poland, many were standing in a line early on Sunday to cross into Ukraine.
"We have to defend our homeland. Who else if not us?" said a moustachioed man in front of a group of some 20 Ukrainian truck drivers walking to the checkpoint to enter Ukraine.
Russian troops enter Ukraine's second largest city
Russian troops have entered Ukraine's second-largest city of Kharkiv and fighting is underway in the streets, Ukrainian authorities have said.
Oleh Sinehubov, head of the Kharkiv regional administration, said Ukrainian forces are fighting Russian troops in the city and asked civilians not to leave their homes.
Russian troops approached Kharkiv, which is located about 20km south of the border with Russia, shortly after Moscow launched its invasion of Ukraine on Thursday.
But until Sunday, they had remained on its outskirts without trying to enter the city, while other forces rolled past, pressing their offensive deeper into Ukraine.
Videos posted on Ukrainian media and social networks showed Russian vehicles moving across Kharkiv and a light vehicle burning in the street.
The view from an apartment in a high-rise building which was struck by a missile in Kyiv on Saturday (@nabihbulos/Nabih Bulos/Los Angeles Times/AP)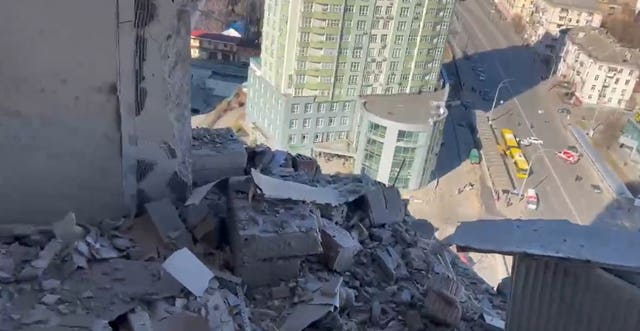 Earlier, Russia unleashed a wave of attacks targeting Ukrainian airfields and fuel facilities.
Huge explosions lit up the sky early on Sunday south of the capital, Kyiv, where people hunkered down in homes, underground garages and subway stations in anticipation of a full-scale assault by Russian forces.
Flames billowed into the sky before dawn from an oil depot near an airbase in Vasylkiv, where there has been intense fighting, according to the town's mayor.
President Volodymyr Zelensky's office said there was another explosion at the civilian Zhuliany airport.
Mr Zelenskyy's office also said Russian forces blew up a gas pipeline in Kharkiv, prompting the government to warn people to protect themselves from the smoke by covering their windows with damp cloth or gauze.
"We will fight for as long as needed to liberate our country," the president vowed.
Terrified men, women and children sought safety inside and underground, and the government maintained a 39-hour curfew to keep people off the streets.
Children who fled Ukraine play on the floor of an event hall in a hotel offering shelter in Siret, Romania (Andreea Alexandru/AP)
The United Nations High Commissioner for Refugees has updated its estimate on the number of refugees that have left Ukraine, saying the total stands at 368,000.
Russian President Vladimir Putin has not disclosed his ultimate plans, but Western officials believe he is determined to overthrow Ukraine's government and replace it with a regime of his own, redrawing the map of Europe and reviving Moscow's Cold War-era influence.